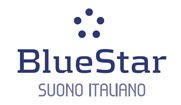 The new BlueStar® reeds are a natural consequence of our company vision oriented towards music and the musician. They are the conclusion of a process of observation, study and improvement applied to our work and to our product, reeds. And they are a new beginning, for the positive implications that they will have in furthering the improvement of the accordion.
It is not a handmade reed. It is not a hand-finished reed. It is not a variant, or a restyling of either of these. The BlueStar® is a new reed, which is completely different from its predecessors and those on the market today because it hosts substantial innovations and differences.
The basic thought process that led to the creation of the BlueStar® reeds is the consideration of the benefits to be achieved by combining modern improvements with the experience handed down to us throughout the history of our production. The idea of combining tradition and innovation, and simplicity with the highest possible quality possible for us, in terms of functionality and acoustics. In our reeds, the BlueStar® is at the top of the range, even bettering the sound and functional potential of the handmade reed.
At the time of presentation, more information will be posted here on the website.
The BlueStar® reeds will be presented in the second half of 2021: in the early distribution phase, they will be made available to our partner manufacturers who have adjusted their reed blocks to achieve the full expression of the sound potential offered by the new reeds, so adding value upon value.