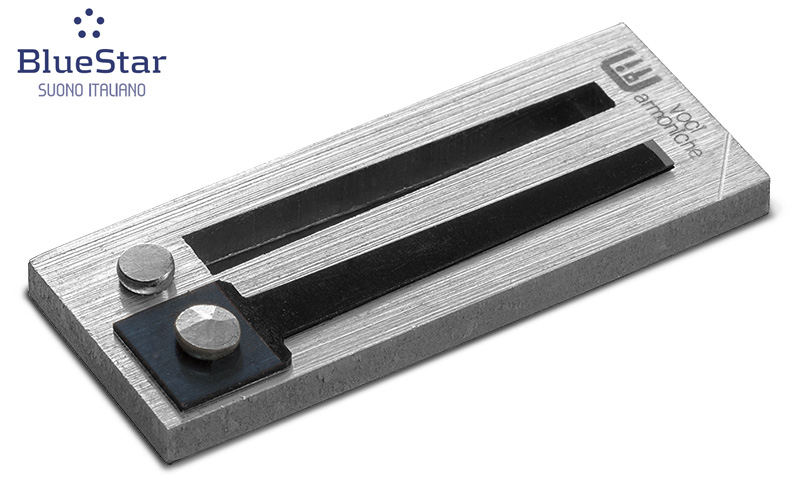 Excellence, innovation, essentiality, inimitability, made in Italy: this is what qualifies BlueStar® reeds. Top of the range, very high acoustic potential. The new reeds combine the original tradition of the handmade reed with innovation; sophisticated essentiality with the highest quality of its acoustic flavour, intensity, ductile dynamics and the high definition of the harmonic equilibrium. Extra-fine overall, timbric and functional consistency. Reliable, durable. Inimitable, due to its unique and peculiar structural properties.
General characteristics:
Top of the range reed for the most demanding professional and amateur uses. Intensity, acoustic flavour, extended stability in the dynamic range, versatility and precision during performance. High breakage and stress resistance. To ensure the full expression of the reed's exceptional acoustic power, the accordion must provide the right conditions, starting from the correct adaptation of the air flow in the reed blocks to suit the reeds.
Timbre:
Classic, concert standard, with an intense, rich, defined, balanced, full flavour, proper to the note pitch, finely balanced in the overall effect of the different octaves.
Crafting process:
All the production phases of the parts, tongue and plate are performed and monitored with particular care; the same occurs in the assembly phases, to optimise the functional and acoustic performance of the finished reed. Finishing is essential, the aspects regarding the sound potential are managed with painstaking attention to detail. Thermal bluing, a traditional technique used in high watch-making, gives the reed its blue colour and superior functional properties. A beautiful shape leads to a beautiful sound: the essence of the BlueStar sound principle lies in this subtle, yet powerful energy unit.